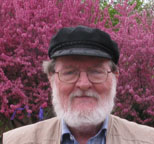 I'm Julian Long, a retired educator now living in Saint Louis, Missouri. Tor many years I was a school teacher, working in various universities. Most recently I conducted a senior honors seminar entited Great Books at Saint Louis University. Read about it here if you like.
I've been writing and publishing poems, essays and reviews since about 1970. There's a small selection of these things here. Some of the publications for which I have written are: Sewanee Review, Pembroke Magazine, New North Carolina Poetry, The Eighties, Selected and Edited by Stephen E. Smith, Weymouth: An Anthology of Poetry Edited by Sam Ragan, the Southern Pines Pilot, The Dallas Morning News, The St. Louis Post-Dispatch, American Arts, Horizon, New Mexico Magazine, New Texas, Texas Books in Review, and Windhover: A Journal of Christian Literature. My chapbook, High Wire Man, is number twenty-two in the Trilobite Poetry Chapbook series published by the University of North Texas Libraries. I began this blog in March, 2007 and have kept it up ever since. I'm not a desultory writer, but I publish irregularly on the blog. I've also published no verse here that's not been previously published. These practices continue to suit me.
I am a New Mexican by birth and a Texan by adoption. I was educated at Southern Methodist and Duke Universities. My beloved and I moved to Saint Louis in 2002. We live in an old house in the South Grand area, not far from Tower Grove Park. I'm guessing that we are about three miles from the Mississippi, though you can't get there as the crow flies.
bona fides . . . write to me
This blog is now ten years old. I posted here for the first time on March 4, 2007, a test message reading: "This post doesn't exist." Now that I no longer teach school, the blog is becoming the center of my intellectual and creative life. That doesn't seem a bad thing to me; though by the lights of some I could appear a self-indulgent old fool. The blog costs me something to maintain; that is, it requires some actual cash to sustain its hosted domains, compensate my ISPs, etc. I've preferred that to using any of the free platforms available—though I do use open source software, namely WordPress, as a medium; and I do house some photos at flickr. I also like having an actual investment in the work I do here. That keeps blogging in the domain of work for me rather than play, or perhaps work tinged with play would be a better characterization. If you like the blog please continue reading, and if you feel inclined, please write comments. Comment windows are open for ninety days on new posts. Initial comments require approval, primarily to make sure they come from humans. Subsequent comments post immediately.