I'll be traveling to Texas this weekend to participate in a memorial service celebrating the life of my old friend, Cecil Adkins. Here he is with a tromba marina or trumpet marine, a strange instrument about which he llkely knew more than anybody. The photo is courtesy of his daughter, Madeline. The grin was his own. When I get back to St. Louis, I'll write some more about him. but for now, I'm revising my thoughts about All Hallows to include this small personal farewell. Safe journey, Cecil. May all your angels learn the tromba marina.
Come, sons of summer, by whose toil
We are the lords of wine and oil;
By whose tough labours, and rough hands,
We rip up first, then reap our lands.
Crown'd with the ears of corn, now come,
And to the pipe sing Harvest Home.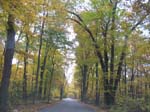 Leaving a late afternoon meeting the other day, someone remarked that it doesn't seem like November. It isn't cold enough. My neighbor's oak tree has hardly begun to carpet my yard. The weather seems stuck somewhere just the other side of Poe's lonesome October. Still, Halloween brought us a nice gaggle of children and a few jokes at the door in keeping with the local tradition.
I timed my arrival at church next day so as to avoid singing all the verses of "For All the Saints"; not that I don't love the hymn, as I love St. Patrick's Breastplate and the Hallelujah chorus. But I've sung them all too many times for too many years. That aside, there's still something about this time of year that I especially love, something about the various enactments around the time of All Hallows that arrests and gives me pause to think again for the hundredth time (the hundredth time being that time whose coming is always both old and new) of the round of mortality we celebrate amongst ghosts and shadows in the lengthening nights.
All Hallows perhaps emerged in the eighth century as a sanctification for Europe's new Christians of various pagan celebrations. And it has never lost its pagan character, even in today's commercially appropriated forms. I'm amused at some of the arguments we now have about appropriate costumes for Halloween, though I probably shouldn't be because these arguments get pretty serious for those most directly affected. "Dress up, if you will, but don't appropriate somebody else's culture,' doesn't solve any problems, nor do appeals to freedom of speech in spite of the fact that Halloween has always been a time of inappropriate hijinks. Too, it doesn't take much of a history lesson to point out that Halloween has always been an appropriation of someone else's culture; but the reason white college students shouldn't wear blackface, or stage all-white parties, or throw frat parties with gang themes, etc., isn't that doing these things involves appropriation, and no number of scripted "conversations" will make it so. The reason these practices are odious is that they perpetuate invidious ethnic stereotypes with which we are presently struggling.
For in the final analysis the hijinks are folded into a great solemnity. These days in my church we tend to collapse All Hallows and All Souls into an All Saints Sunday (that closest to November first); though All Saints Day, itself, remains a day of solemn obligation requiring a Mass, like Christmas, the Feast of the Assumption, and a handful of others that don't necessarily fall on Sundays—all Sundays being days of solemn obligation. We festoon spaces in our churches with photographs of loved ones that families wish to remember, and we sing hymns and read lessons that recall saints known and unknown. One of my favorite such lesson is from Ecclesiasticus 44. "Let us now praise famous men," it begins; but its chief aim is to remember those "there be, which have no memorial; who are perished, as though they had never been; and are become as though they had never been born; and their children after them." This is the logic of Agee and Evans's famous book of depression photos.
But All Hallows is also part harvest festival. I've quoted above from Robert Herrick's wonderful poem, "The Hock Cart, or Harvest Home"; albeit a celebration of feudalism when it was already gone (and perhaps a rueful nod towards the hard lives of those who must feed their lord). Still, the symbolism of the hock cart, or the last laden harvest wagon, decorated with a figure made of sheaves and ribbons, is for Herrick not an end but a beginning:

And, you must know, your lord's word's true,
Feed him ye must, whose food fills you.
And that this pleasure is like rain,
Not sent ye for to drown your pain,
But for to make it spring again.
I remember driving along rural North Carolina roads during the tobacco harvest and marking how elderly wooden harvest wagons left a litter of broad, green leaves behind them as they bumped along. The great cotton wagons of West Texas did the same in my day, littering the roadways with a white chaff that might or might not find its way to the gin. And I think of the parable of Jesus in the Gospel of Thomas. A woman walks down a road carrying a jar of meal. She doesn't realize that the jar is leaking until she arrives home and finds it empty, poured out indiscriminately like the abundance of God, or Herrick's rain, or Stingy Jack grinning through a ghoulish face carved from a hollow turnip or a pumpkin as we do in this country.
Why the pairing of harvest home with images of waste and death? Because growth and dying are wrapped together like the yin and the yang. "Unless a corn of wheat fall into the ground and die, it abideth alone," says John's Gospel. Harvest is that death that gives us present abundance, but also provides us the seeds of all future abundance. It is the sign and prophecy of the cosmic stubbornness we live in, of which we are a part. Call it Nature or call it God's own field—we plow and scatter the good seed upon the same earth in which we bury our dead
—to make it spring again.